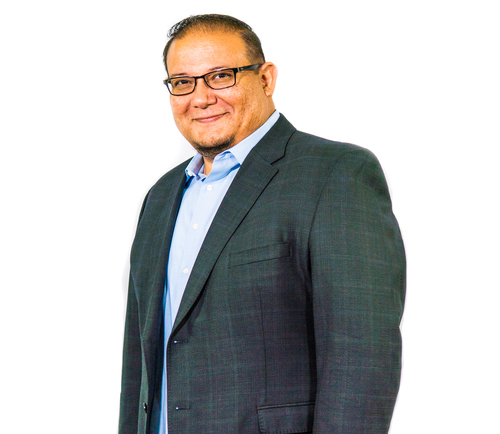 Rev. David Silva, Jr. is originally from Brownsville, Texas. He was born on September 4, 1975 to David & Amelia Silva and he has one sister, Elisabet Ann Silva.

Pastor Silva had the privilege of having a good ecclesiastical with the example he received from his parents, family and pastors. It was during the first years of his life when he experienced the power of God through a revival that God brought upon the church he attended. He accepted Jesus Christ as his Lord and Savior at the age of 5 and at age 6 he received the baptism of the Holy Spirit. This great move of God has been the impulse behind his life and ministry.

At the age of 17 he started preaching and he saw the need to better prepare himself. He looked for a Bible School and was able to obtain his certification. Pastor Silva now has two bachelor's degrees; a Bachelor of Arts from the University of Texas and a Bachelor's in Theology from La Puente, California.

The first ministry that Pastor Silva was involved with was evangelism. For 8 years he was ministering in many churches preaching a message of salvation, power and restoration. Pastor Silva has been the Senior Pastor of Templo Elim Assembly of God for the last 13 years, where God has blessed him greatly. The message has not changed, God continues to use Pastor Silva to bring an awakening to the church of Jesus Christ.

From 2010 to 2014, Pastor Silva also served as the District Youth Director for the Texas Gulf Hispanic District of the Assemblies of God. During that time he had 120 churches under him where he was responsible for the spiritual growth of the youth in the district. In 2012 Pastor Silva was interviewed by Enrichment Magazine and he was named a one of pastors with an influential and impacting church within the Assemblies of God in America. Currently Pastor Silva is an Ordained Minister with the General Council of the Assemblies of God and serves as Executive Presbyter of the North Region of the Texas Gulf Hispanic District.

Pastor Silva is consumed with an incredible passion to see a move of God within our churches. He is determined to see the church on fire for God and fulfilling the purpose that God has for it in these last days. It won't be until the church is on fire for Him that it will be able to make an impact in our world.

Pastor Silva has the support of his lovely wife, Claudia A. Puente-Silva and together they are making the difference in their city and church for Jesus. Their desire is to be able to be a blessing wherever God takes them. They both have 20 years of ministerial experience and have the support of their district leaders.